Virtual enterprise in the Central America dairy industry: a case study
Ismael Mazon
Professor Electrical Eng. School
University of Costa Rica
Abstract
In this paper it will be cover the dairy industry sector in Central America in general, and in Costa Rica in particular, with a case studied of a costarrican medium dairy enterprise. It focus the attention on the virtual enterprise context. It will be analyzed the supply chain, the information technologies status and needs and the on going projects to have, in a medium time period, an acceptable platform to make electronic commerce. The paper is oriented toward the infrastructure requirements to support a virtual enterprise in the national context and in the enterprise context. Taking in account the minimal and the recommended national and enterprise infrastructure. This analysis born as a partial result of the project Supply Chain Management (SCM+) supported by the INCO program of the European Community. In this project are involved a costarrican dairy industry and other Latin-American and European universities and enterprises.
Keywords
Dairy food industry, supply chain, electronic commerce virtual enterprises.
1. DAIRY INDUSTRY IN CENTRAL AMERICA
In Central America the annual milk production is of 1700 millions of liters. The figure 1 show the distribution of that production per each country: Guatemala, El Salvador, Honduras, Nicaragua and Panama. That sector is very important in the area from the point of view of technology, wealthy and reach distribution. Costa Rica is the largest producer in the area.
The main characteristic of the sector is the taxes barrier imposed, in differents level, by each country to the foreign milk products. This situation are beginning to change due basically to the opening commerce process and now the local enterprises are implementing strong modernization processes. An special example is the strong interest to include the electronic commerce, EDI technologies and so on to begging architectures of virtual enterprise. From the point of view of production technologies the situation is similar. There are strong investment process to buy stay of the art technologies that let then to have the shop floor information accessible in the planning and decision levels.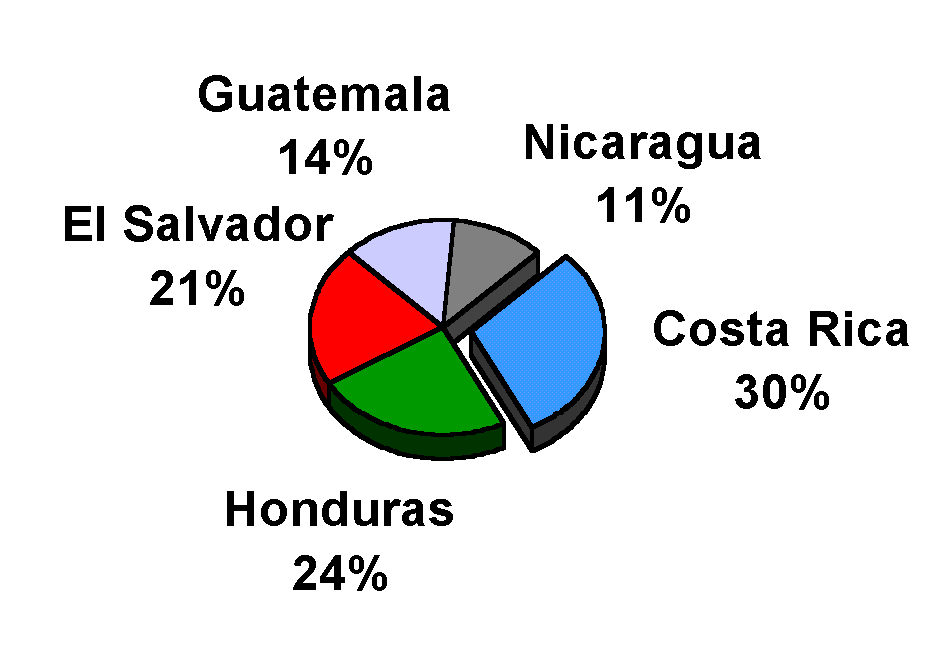 Figure 1: Milk production in Central America.
2. DAIRY INDUSTRY IN COSTA RICA
Along with Argentina and Uruguay, Costa Rica is one of the Latin America self-sufficient milk producer countries.
In the country there are 35,000 farms devoted to the milk production divided in 57% devoted to milk and meat production and 43% devoted only to milk production
The milk production share the 9% of the Gross Domestic Agro-Product (GDAP). The agricultural sector represents a 18.6% of the Gross Total Domestic Product (GTDP).
From 1991 through 1995, the industrialization of dairy goods represented 18% of the national manufacturing structure of the food industry. The main sector of the national food industry.
The national dairy business is the activity that produces the most Per Capita Wealth within the agricultural sector.
If all dairy supply chain activities are considered, the dairy business benefits directly more than 180,000 people (5.5% of Costa Rica's population).
Figure 2 show the Costa Rica's milk production sector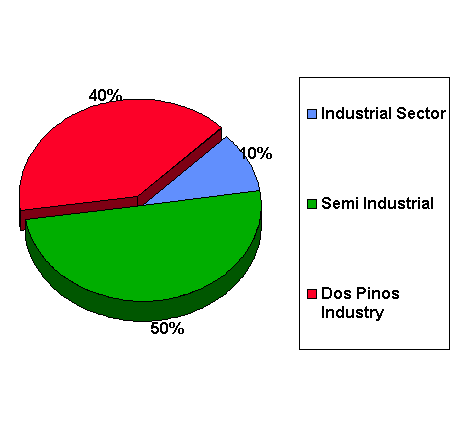 Figure 2: Dos Pinos' milk production
The dairy goods processing technologies would be divided in two groups:

Industries: In which the processing technology are semi automated. In some process with high technology.
Small industries: are semi-industries with non automated technology. Dos Pinos is an industry very representative of the medium or large milk processing industry in Costa Rica and Central America.
3. DOS PINOS STUDY CASE
Dos Pinos is a farmers cooperative conformed by 2500 shareholders. Dos Pinos shares 80% of local market and exports 11% of its production and processes 40% of the national milk production. As similar in other countries the local milk production is protected by taxes barriers. Actually this taxes represent 107% for imported dairy goods. Now a 3% of the local consumption has been opened for dairy goods imports. This gradually open of the market will be given in the next years. In that sense one of the main objectives of the enterprise is the modernization, acquiring new technologies, increasing its efficiency, beginning reengineering processes and so on. Then, one of the short time objectives is to reach a full integration of the supply chain.
3.1. Dos Pinos' supply chain
The figure 3 show a diagram of the Dos Pinos' supply chain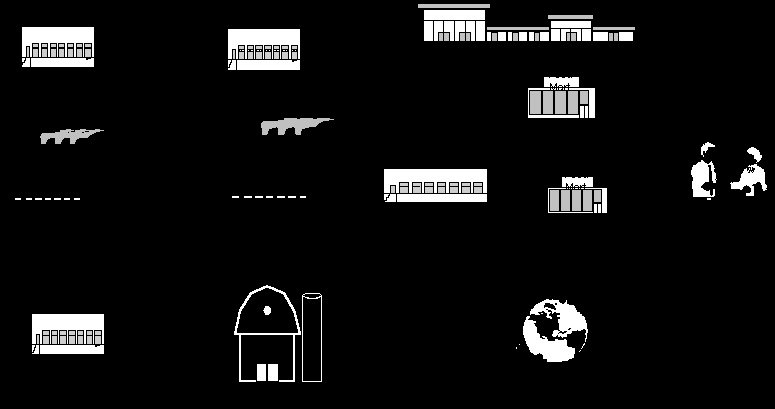 Dos Pinos' boundary
Figure 3: Dos Pinos' supply chain
A typical characteristic of this supply chain is it articulation based in procedures and technologies with lower develop. There are a low use of the new information technologies, a poor logistic process, low electronic integration between the differents actors of the supply chain. Most of communications process with the suppliers and customers are by fax, telephone or person to person. Only in some cases the communication is by internet or similar means.
3.2 Information Technology Status & Needs
The information technologies in the case of dairy industries in Costa Rica in general and in the case of Dos Pinos in particular have the following characteristics:
Inner to the enterprise:
The process information arrive in non automated way to the planning and management areas. It arrive as memorandums, letters, worksheet mainly.
There is a corporate network to support the typical activities: accounting, financial, human resources, inventories, purchasing among others. This is a closed network, without external interaction.
External to the enterprises:
The communications with the clients and suppliers are by means of fax, telephone, person to person and rarely by Internet.
The rest of the industry sector in Costa Rica and Central America has a similar or lower technological level.
In the case of semi-industrial enterprises the use of information technologies are minimal and the external communications are by fax or telephone.
To solve this situation is necessary to have in short term:
Information systems reengineering based client server networks running integrated information systems.
An extranet with clients, shareholders and suppliers.
Improve commerce activities by electronic means, specially with countries.
Automatic data collection in the most critical activities (sales, milk collection and manufacturing) to have accurate in real time data.
Dos Pinos is beginning a modernization process that include actions in the following aspects:
Technology
The enterprise is developing an information technology infrastructure to support electronic links between suppliers and clients.
Reorganization
Employees should focus on the core business activities, in order to achieve this objective, the enterprise is improving and integrating information systems and automating production systems.
Training
The enterprise is improving the information technology culture of the employees and is investing human resources in the research & development informatic area.
3.3. Toward a Virtual Enterprise
As taxes barriers for imported milk are disappearing and international competitiveness is increasing, Dos Pinos is obligated to create more competitive advantages that are only obtained within a Supply Chain Management culture.
The enterprises has actually some project oriented to reach an architecture of virtual enterprise in medium time. Some of them are the following:
Short Term (One year)
Integrate electronically and organizationally all the enterprise core activities.
Integrate electronically with the most important customers and the critical suppliers by an Extranet. They are testing a Electronic Commerce with three computer equipment's suppliers (VAN).
Change the internal network to a client server architecture LAN-WAN-LAN Intranet based on Windows NT, Lotus Notes (for example).
To implement a Dos Pinos Web Site to get connected with 1400 farms owners throughout PC´s on farms and consulting points in the AgroVeterinarian Distribution Centers. That project is divided in two phases:
Phase 1: To link with the agriveterinariam distribution centers (14). That centers are distributed in all the country.
Phase 2: To link the farmers (1400). The farms are located in different places of the country. Next associated meeting in next October will offer the financing of a modem and microcomputer to all the associated.
Each farmer will have an account to verify:
Milk received payment (weekly).
Banking operations
Credit status
Purchases status.
Electronic mail
Assurance status over farms and others.
The Frame relay technology, the ISDN services, the Internet services and the fiber optic network offers by the national telecommunication enterprises will be feasible that project.
The system will be supported by Internet. There will be a Internet server at Dos Pinos computer center and a Data Base based in a IBM RS-990.
The main objective of that project is to increase the efficiency and the quality of the bi-directional partner communications.
Dos Pinos will change the organization of the computer center to a client-server architecture. There are a training program with the farmers and the computer center personal to support that new service.
Medium Term (More than one year):
Full Information Systems Reengineering (Non-integrated BBX programs to Client Server integrated systems)
EDI using Internet to access the largest quantity of clients and suppliers.
Improve communications networks with distribution centers based on Frame relay, ISDN and optic fiber.
Improve the Web Site concept.
4. NATIONAL INFRASTRUCTURE TO SUPPORT VIRTUAL ENTERPRIZES
Costa Rica has a national communication system covering all the country, with international connection to transmit voice and data. It is composed by digital microwave networks, fiber optics network and cooper networks. Digital and analog switching station with access to value added services as:
Electronic Commerce with EDI (supported by Internet)
Integrated Service Digital Network (ISDN)
Internet
2 MB linking
LAN-LAN and LAN-WAN interconnection (w/ Frame Relay)
Video conferencing
Local distribution of International Business Service (IBS)
Virtual telephone
Paging and trucking
Satellite services with PANAMSAT e INTELSAT
Client located remote antennas to international communications (VSAT)
Cellular and wireless communications services
Mobil networks (new service)
Some of those services have national/international cover and others have regional cover.
Those services are given, mainly, by two public telecommunication enterprises:
Costarrican Telecommunication Institute (ICE) (operation, transmission and switching of voice telecommunications services):
Costarrican Radiographic (RACSA) (operation, transmission and switching of data telecommunications services).This institution is supporting all the requirements needed by the Electronic Commerce. Some of these services are:
EDI
Home banking
Information suppliers
Actually there are project in course to increase the fiber optic network to have, at medium time, an infrastructure supported by ATM (Asynchronous transfer mode) technology, to have in short time high rate transmission of voice, data and image.
RACSA and the Costarrican Commercial Codification Association (national representative of the International World Commerce Association) are developing an EDI project to support the commerce of seventeen national enterprises. Some food industries are interesting to participate in that project. That EDI service will be supported by Internet.
Minimal to need a country to support virtual enterprises must support at least:
EDI (private or public): Based on VAN or Internet.
Network configuration: including voice and data communication type LAN-LAN.
The most important characteristics of this infrastructure are:
Security: quality of the communication and the access to the network.
Switching telecommunication system based in a cooper network and supported by digital switching. It is possible to have links with dedicated lines.
Directories access.
The recommended infrastructure in a country must support at least:
Work flow services
Collaborative Engineering
Materials flow planning
Monitoring orders
Electronic trading
Market information
Catalogues
The most important characteristics of that infrastructure:
Advanced Security
High quality of the communication services
Switching infrastructure to transmit high speed data (for example: Frame Relay). To support LAN-WAN-LAN networks.
5. ENTERPRIZES INFRASTRUCTURE TO SUPPORT VIRTUAL ENTERPRIZES
The minimal infrastructure inner to the enterprise must support at least:
A LAN network (i.e. Novel or Windows NT software).
A PBX to voice communications and fax.
Internet access.
Modems to remote data communications.
Access to EDI services.
Client-Server architecture
That most important characteristics of that infrastructure are:
Security software to access network information.
Good quality network communications.
The recommended infrastructure are the following:
The last ones cited as minimal.
Supporting LAN-WAN-LAN internetworks.
Routers to support remote communications.
Must support PBX connections to the LAN.
Intranet
The most important characteristics of that infrastructure are:
Access to the information services to other partners.
Catalogues.
Workflow activities.
Collaborative engineering.
6. SCM+ DOS PINOS AND ACADEMIC BENEFITS. IDEAS FOR THE FUTURE COOPERATION PROJECTS BETWEEN EU-LA
The project have show how Dos Pinos can leverage its research & development capabilities by teaming up with universities.
A Benchmark of supply chains in other Latin American and European countries gave ideas to improve links of the Dos Pinos supply chains.
SCM+ have also contributed giving concepts, tools and methodologies to evaluate and develop a Virtual Enterprise concept with the most important links of its supply chain.
The SCM+ contributions have helped to orient the stages of its on going information systems and organization improvement process.
It is an university objective to increase the cooperation activities with foreign academic groups, specially from Europe.
It is very important to the university to increase the experiences to joint work with the industry. SCM+ project give us a great experience in that sense. Increase our skills in front of the enterprise.
Begin a good relation between the university and one of the most important enterprises in the country.
The SCM+ project have professionals from several fields. Quality engineering, information systems, control engineers, industrial engineers, professionals from the industry. It is a rich experience to work in that interdisciplinary group.
This project increase the academic and scientific skills of our local group, composed by two professors, two master of science students and two final degree engineer students.
The experience obtained will be very important to us to participate in local and international activities in virtual enterprises.
This project have create a new activity research area in our department. It will give us the possibility to obtain new local resources to continue with it.
To leverage research & development fields throughout collaborative projects between European and Latin American universities and enterprises.
European postgraduate students could make their thesis in Costa Rica with industry financial support joined with a local university support, in common EU-LA interest areas.
7. CONCLUSIONS
The main conclusions are the following:
The dairy food industry present a low level development in the area of the information systems. In general in this kind of enterprises the communications are done mainly trough fax, personal o telephone. The data processing system on each company is not enough to support and information interchange framework. The production system technology are supported most in worker systems as in automation systems. The production information is not accessed automatically in planning and other decision levels.
The production infrastructure (technology an organization) are not prepared, in short time, to adopt a strong plan to develops the information framework. However, there is a good motivation in all companies to modernize their information framework.
The employees, in all the companies, are not academically prepared to be included in a strong plan of modernization.
There are some plans to introduce the EDI technology at least in Dos Pinos, in medium time. At least with the main clients (supermarket) this technology is very important to Dos Pinos. Another phase of its development plants is to establish an EDI link with its main distribution centers (there are ten around the country).
8. REFERENCES
Carelli R.. Martin M., Pellicer J., Fabregas, E., Project SCM+ INCO Project-Europan Union. 1st, 2d. Technical Report: Esteban Fabregas. Instituto de Automatica, Universidad Nacional de San Juan, Argentina (1996).
Carelli R.. Martin M., Pellicer J., Masiello A, Oviedo W. Project SCM+ INCO Project-Europan Union. 1st , 2d. Technical Report:Frutos de Cuyo. Instituto de Automatica, Universidad Nacional de San Juan, Argentina (1996).
Duarte K, Negreiros F. Technical Report: Yara. Universidade Federal de Espirito Santo, Brasil (1997).
Mazon I., Chacon V., Rodriguez D. Technical Report: Dos Pinos. Universidad de Costa Rica. San Jose, Costa Rica (1996).
Lewes M., Ferreira-Pinto M. SYNTHESIS ON INTEGRATED PEST MANAGEMENT (IPM) CURRENT STATUS. Ministerio da Ciencia e da tecnologia. Instituto de Investigacao Cientifica Tropical. Centro de Estudios de Produção e Tecnologias Agrícolas. Lisbon. Portugal (1996).
Mazon I., Rodriguez D, Chacon V. Evaluation Criteria of Virtual Enterprises.
Workshop on Virtual Enterprises. San Juan. Argentina (1996).
Holt D., Sonka S. Virtual Agriculture: Developing and Transferring Agricultural Technology in the 21st Century. Illinois Agricultural Experiment Station. University of Illinois. U.S.A. (1995).
Cleaves G., Masch V. Strengthening Weak Links. OR/MS Today (1996).
Scott B. Try the Future Now. OR/MS Today (1996).
Barata M. Telecommunications Technologies. 1st meeting SCM+ Project in Costa Rica. San Jose. Costa Rica (1996).
Camarinha-Matos L., The Concept of Virtual Enterprise and SCM+ overview. Universidade Nova de Lisboa, UNINOVA. Workshop on Virtual Enterprises. San Juan, Argentina (1996).
Taber E., Socio Economical Diagnosis of the Province of San Juan. The Manufacturing Industry. Workshop on Virtual Enterprises. San Juan, Argentina (1996).
Barata M.., EDI and Virtual Enterprises. Workshop on Virtual Enterprises. San Juan, Argentina (1996).